I am adding the sex video that Tifa Quinn and I did when she came by to shoot the modeling photos, and I hope that you all enjoy the video! As you all know, my videos are typically modeling videos or sexual scenes, such as fuck scenes, handjob scenes, blowjob scenes, etc. However, when Tifa Quinn was at the shoot, I asked her what type of video she wanted to do and she told me that she wanted me to be her DADDY! 😀

According to Tifa Quinn, she had been thinking a lot about the type of video that she wanted to do when she came to visit me, and she also told me that she had been fantasizing about me being her Dad before even arriving at the porn shoot! Well, that was certainly flattering that my little friend thought of me in such a manner, and considering the fact that I am indeed old enough to be her father, well – we had a lot of fun creating the video! And if ya ask me, my baby girl did very well with the blowjob, receiving my cock inside of her pussy from behind, as well as letting me just shoot the cum right inside of her tight vagina instead of pulling my dick out. So yeah, she told me that it was cool if I wanted to just blow my nut all up inside of her. The only thing that I regret is not recording the semen all up inside of her pussy hole with the video recorder because it was most likely filled up very full since I came for a pretty long time. I mean, my cock just continued squirting all up inside of her! Hell, I remember thinking at the time – Damn, I wonder when I'm going to stop cumming? But yeah, my baby girl sure fucked that load right out of my dick. I'll tell ya that damn much.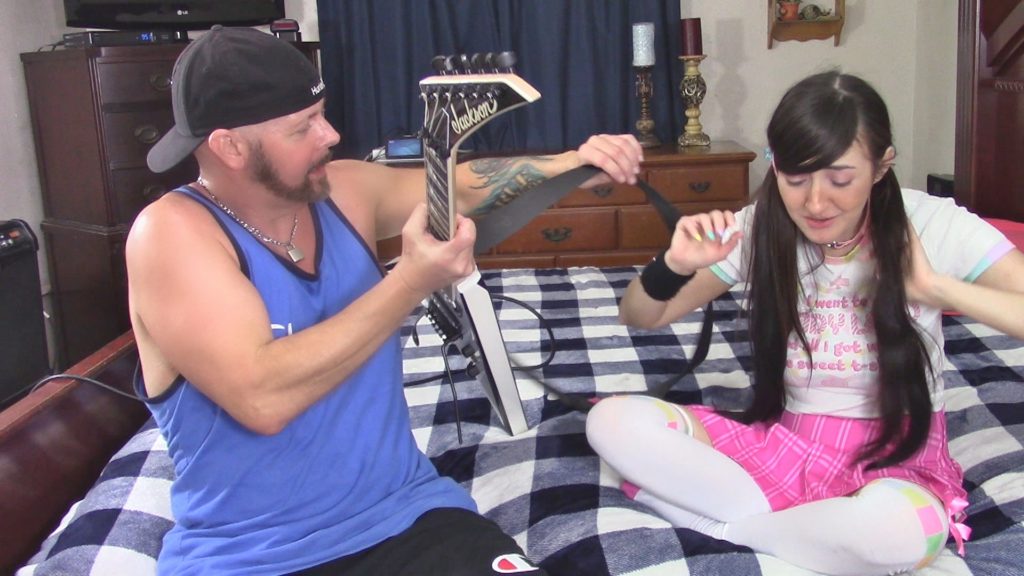 I know that my videos are not typically based around any particular sort of theme, but we both thought that it would be something fun and different to do since there are no videos like that on True Amateur Models. I am more known for shooting straight-up POV scenes, but hey – why not shoot some videos every now and then that contain some sort of interesting and fun-filled fantasy theme? I mean, just to branch out and explore various ideas? I am still – (of course) – going to record the videos the same as I always have – more of a POV type of scene that goes fairly straight to the action, but perhaps, create some videos every now and then with a twist, as in having some sort of theme. I don't know, but I suppose we shall see. However, I do hope that you all enjoy the video that Tifa Quinn and I recorded!

The video starts off with her Stepfather, Ray Edwards, in the bedroom jamming out with the electric guitar. The Stepdaughter, Tifa Quinn, walks into the bedroom, sits down on the bed, and then starts having a discussion with her Stepdad. She wants him to show her some tips on playing the guitar because she needs to polish up on how to correctly play the chords. As any loving father would do, he was happy to show his baby girl a few things regarding playing the instrument, but things took a different direction when she showed Daddy the cute shirt that she was wearing after he had just positioned her fingers on the guitar strings to play a barre chord! Before he knew it, his baby girl was laying back on the bed and spreading her legs apart, wanting her Stepdad to eat her pussy!

After licking his baby girl real good between her legs, she gets down onto the floor and gives her Stepdad a blowjob! After giving the blowjob, she hops up on the bed and he starts eating her pussy, yet again! Daddy sure loves licking that pussy! After eating her pussy, as well as inserting one, as well as two fingers inside of that wet and sticky hole, Dad lays back on the bed and SNUGGLES with his sweet little cupcake. 😘
He kisses and makes out with her, gently caressing her adorable face with his hand, and then lightly, as well as very lovingly, rubs his hand across the back of her head and across both of her shoulders. After making out and snuggling in the bed, she gets into the doggy style position and Daddy slides his cock right inside of her tight pussy, and he even – CUMS INSIDE OF HIS BABY GIRL! 😲

But yeah, Tifa Quinn and I had a great time making the video, and again, I do hope that you all like it! I realize that it's something a bit different than what you're used to seeing, but Tifa and I just wanted to have a lot of fun with it, instead of recording the same type of POV video that basically goes straight to the action after a little bit of a short intro at the beginning. Hope that you all enjoy this video. featuring, Tifa Quinn and Ray Edwards from True Amateur Models!